Tire Rotation Service in Omaha, NE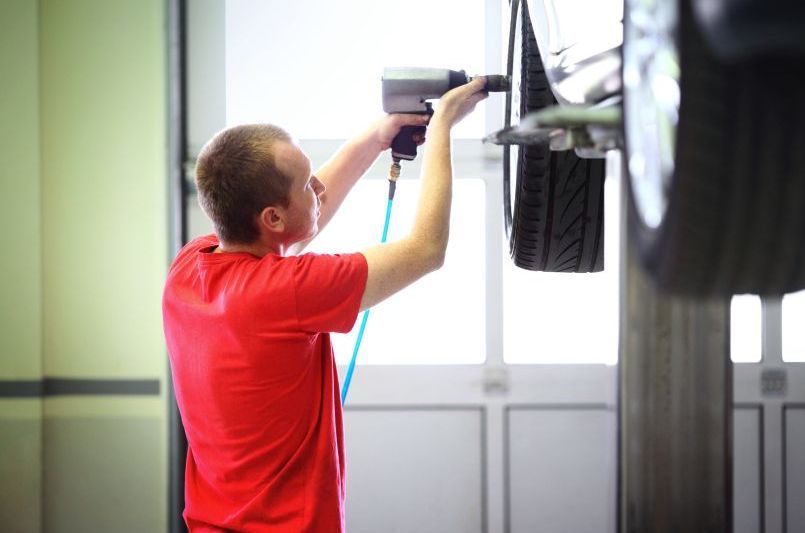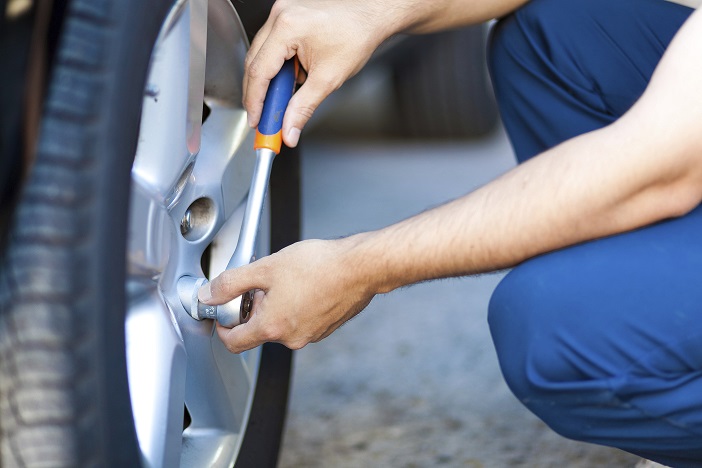 Tires are a huge investment, so let us at H&H Kia help you take care of them with our tire rotation service in Omaha, NE. Not only will performing this maintenance regularly give your rubbers more longevity, it will also provide you with more traction. Our Service Department is open six days a week, Monday through Saturday, and our knowledgeable technicians are friendly, so come by soon!
No matter what sort of drivetrain you have, FWD, RWD, 4WD, or AWD, a tire rotation should be performed about every six months. Luckily, the time interval for tire rotations and oil changes are fairly similar, so you can usually have them performed at the same time! Acquiring an appointment with us is a simple matter, too. You can always give us a call and speak with one of our helpful staff members, or you can fill out our Schedule Appointment form online. Of course, there's always the option to just drive up to our service bay and we'll be happy to fit you into our schedule! If you're not sure whether you need a tire rotation or not, take advantage of our handy Ask a Tech form, located under the Service tab right here on our website.
Why should you get your tire rotation service in Omaha, NE? Well, tires wear each and every time you hop in the driver's seat to take a cruise. The treads tend to erode more quickly on the front, outer side of the tire, due to taking left and right turns. When we rotate your tires, we'll generally switch them front to back, but will do so diagonally or perpendicularly depending on your specific tires' needs. Having this simple maintenance done once every six months will save the tread and extend the life of your tires, helping you get the most bang for your buck! Plus, we all know that the best deals on tires come in sets of four, so having them wear out evenly is ideal for future tire purchases, as well! Before you come in, make sure you take a look out our service specials, which are always documented and up-to-date on our website!
When was the last time you had a tire rotation service in Omaha, NE? Come on in to H&H Kia and let us take get your vehicle updated on all of its regularly maintenance. We're conveniently located at 4040 S 84th Street in Omaha, NE, right down the street from Scooter's Coffee! We look forward to doing business with you!
Testimonials
GOOGLE
7-14-2020
GOOGLE
7-14-2020
GOOGLE
7-14-2020
GOOGLE
7-14-2020
GOOGLE
7-14-2020
GOOGLE
7-14-2020
GOOGLE
7-14-2020
GOOGLE
7-13-2020
GOOGLE
7-13-2020
GOOGLE
7-12-2020
GOOGLE
7-11-2020
GOOGLE
7-11-2020
GOOGLE
7-11-2020
GOOGLE
7-10-2020
GOOGLE
7-10-2020
GOOGLE
7-10-2020
GOOGLE
7-9-2020
GOOGLE
7-9-2020
GOOGLE
7-9-2020
GOOGLE
7-8-2020
GOOGLE
7-5-2020
GOOGLE
7-5-2020
GOOGLE
7-5-2020
GOOGLE
7-3-2020
GOOGLE
7-3-2020
GOOGLE
7-3-2020
GOOGLE
7-3-2020
GOOGLE
7-2-2020
GOOGLE
7-2-2020
GOOGLE
7-1-2020
GOOGLE
7-1-2020
GOOGLE
7-1-2020
GOOGLE
7-1-2020
GOOGLE
7-1-2020
GOOGLE
7-1-2020
GOOGLE
7-1-2020
GOOGLE
7-1-2020
GOOGLE
7-1-2020
GOOGLE
7-1-2020
GOOGLE
7-1-2020
GOOGLE
7-1-2020
GOOGLE
7-1-2020
GOOGLE
6-30-2020
Read More
Sales Hours
402-331-9100
| | |
| --- | --- |
| Monday | 8:30 am - 8:00 pm |
| Tuesday | 8:30 am - 8:00 pm |
| Wednesday | 8:30 am - 8:00 pm |
| Thursday | 8:30 am - 8:00 pm |
| Friday | 8:30 am - 6:00 pm |
| Saturday | 8:30 am - 6:00 pm |
| Sunday | Closed |
Service Hours
402-408-9105
| | |
| --- | --- |
| Monday | 7:00 am - 6:00 pm |
| Tuesday | 7:00 am - 6:00 pm |
| Wednesday | 7:00 am - 6:00 pm |
| Thursday | 7:00 am - 6:00 pm |
| Friday | 7:00 am - 6:00 pm |
| Saturday | 7:00 am - 1:00 pm |
| Sunday | Closed |
Parts Hours
402-408-9110
| | |
| --- | --- |
| Monday | 7:00 am - 6:00 pm |
| Tuesday | 7:00 am - 6:00 pm |
| Wednesday | 7:00 am - 6:00 pm |
| Thursday | 7:00 am - 6:00 pm |
| Friday | 7:00 am - 6:00 pm |
| Saturday | 7:00 am - 1:00 pm |
| Sunday | Closed |