Cabin Air Filter Replacement in Omaha, NE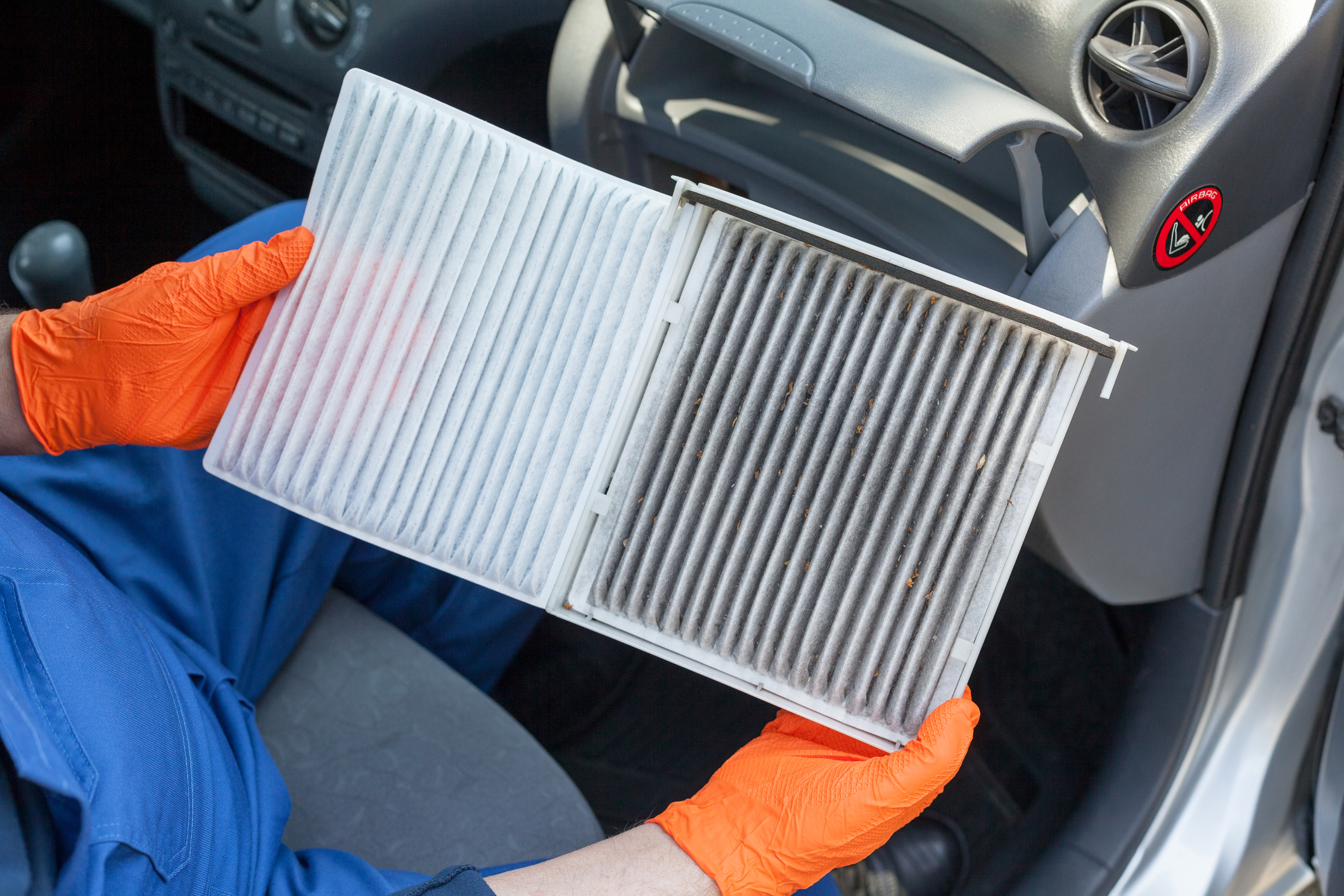 These days, it's better to be safe than sorry. That's why the Service Department here at H&H Kia would like to remind you to stay consistent with regular cabin air filter replacements. This simple component ensures that you and your guests continue breathing only the cleanest air when you're driving down the interstate.
What's a Cabin Air Filter?
While most of the components operating in your ride are there for the benefit of the engine, the cabin air filter is there for you. Acting as the barrier between you and the world outside the cabin, it prevents unwanted particulates such as dust, allergens, germs, spores, and more from contaminating what you inhale. This feature can even be enhanced with carbon to keep the air smelling fresh as well. We can't forget to mention that individuals who live in smoggy areas such as cities and folks who regularly find themselves on dirt roads will want to be especially vigilant for regular maintenance, as they'll likely experience clogging faster than most.
Signs You Should Change Your Cabin Air Filter
Although our team of mechanics at H&H Kia will tell you it's best not to let things get so bad you start noticing other issues, we'd like to fill you in on what warning signs to watch out for. First up, one of the clearest indicators occurs when too much debris gets caught in the cabin air filter. This will present itself as a whistling from your air vents. If things get even worse, you may even begin to notice a musty smell when you enter the cabin. To prevent this from happening, have the cabin air filter replaced once every year, or just about the same amount of time you'd wait for a battery check. You can also look at your vehicle's owner's manual to see what they recommend.
Our Service Department
If you think it might be time to swing by a service bay, we'd like to extend a helping hand. But, to prove we're a better match for you than our competitors, allow us to tell you more about our dealership. Right off the bat, we keep an ongoing list of discounts going, so you won't put a dent in your wallet when you select us. Plus, we make things convenient. In fact, you can schedule an appointment with us using our online tools—no need to call in! On top of that, we make sure you can reach our team by providing you with the Ask A Tech form. Just fill in the blanks with a question or inquiry, and we'll make it a priority to get back in touch with you!
You can count on the technicians at H&H Kia for your next cabin air filter replacement in Omaha, NE. You can find us conveniently located at 4040 South 84th Street in Omaha, NE.
Service Hours
402-408-9105
| | |
| --- | --- |
| Monday | 7:00 am - 6:00 pm |
| Tuesday | 7:00 am - 6:00 pm |
| Wednesday | 7:00 am - 6:00 pm |
| Thursday | 7:00 am - 6:00 pm |
| Friday | 7:00 am - 6:00 pm |
| Saturday | 7:00 am - 1:00 pm |
| Sunday | Closed |
Testimonials
GOOGLE
7-11-2020
GOOGLE
7-10-2020
GOOGLE
7-10-2020
GOOGLE
7-10-2020
GOOGLE
7-9-2020
GOOGLE
7-9-2020
GOOGLE
7-9-2020
GOOGLE
7-8-2020
GOOGLE
7-5-2020
GOOGLE
7-5-2020
GOOGLE
7-5-2020
GOOGLE
7-3-2020
GOOGLE
7-3-2020
GOOGLE
7-3-2020
GOOGLE
7-3-2020
GOOGLE
7-2-2020
GOOGLE
7-2-2020
GOOGLE
7-1-2020
GOOGLE
7-1-2020
GOOGLE
7-1-2020
GOOGLE
7-1-2020
GOOGLE
7-1-2020
GOOGLE
7-1-2020
GOOGLE
7-1-2020
GOOGLE
7-1-2020
GOOGLE
7-1-2020
GOOGLE
7-1-2020
GOOGLE
7-1-2020
GOOGLE
7-1-2020
GOOGLE
7-1-2020
GOOGLE
6-30-2020
GOOGLE
6-30-2020
GOOGLE
6-30-2020
GOOGLE
6-30-2020
GOOGLE
6-30-2020
GOOGLE
6-30-2020
GOOGLE
6-30-2020
GOOGLE
6-30-2020
GOOGLE
6-30-2020
GOOGLE
6-29-2020
GOOGLE
6-29-2020
Read More